Our dental team is one of our greatest assets at Fallon Family Dental Care! Each of our staff members is friendly, knowledgeable, experienced, and caring. We work hard to ensure that each patient has a comfortable, positive dental experience. We invite you to contact our dental office in Fallon, Nevada to learn more about us and to schedule your consultation with Dr. Jaques and Dr. Shepphird, our talented dentists. We are eager to care for your smile!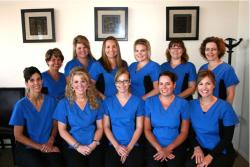 ---
Beth Ann – Registered Dental Hygienist
Beth Ann has worked at our dental practice since 1998, and she has been a patient at Fallon Family Dental Care since she was 5 years old! She joined our team as a dental assistant and began working as a dental hygienist in 2006. Beth Ann graduated from CCHS in 1996, earned her certificate in dental assisting from TMCC (Truckee Meadows Community College) in 1998, and earned her associate degree in dental hygiene from TMCC in 2001. She loves working at our dental office because we have the greatest patients and the dental staff is like an extended family. Beth Ann strives to always provide her patients with the care and knowledge she would like for herself.  Beth Ann is married to her husband, Rob, and they have a baby boy named Blake. In her free time, she enjoys the outdoors, especially hiking, camping, and fishing.
---
Melanie – Registered Dental Hygienist
Melanie joined our dental team in 1999 as a registered dental hygienist. She graduated in 1994 from the Cabrillo College dental hygiene program in Santa Cruz, California. Melanie enjoys getting to know her patients – they are like family to her! She especially enjoys working with children, and she treats each patient with gentle compassion. Melanie is married and has three children.
---
Mia – Head Dental Assistant
Mia has been working at our Fallon dental office for 19 years. She graduated from EDUTEK Professional College in San Diego, California as a dental assistant in 1994. One of her favorite parts of working at Fallon Family Dental Care is our dental team, and she also loves our wonderful, loyal patients who have been visiting our dental practice since it opened in 1995. Mia is a team player and is always willing to help wherever she can! She strives to provide quality care for each patient. Mia has three grown sons, Nate, Jay, and Micah. Her oldest son, Nate, is a builder in the Navy (Seabees), and her other two sons are in college. When she isn't working, Mia enjoys reading and cooking.
---
Jennifer – Dental Assistant
One of our newest team members, Jennifer joined our dental team 3 years ago. She attended Draughons Junior College, where she studied dental assisting. Jennifer graduated summa cum laude in 2008, earning her Associate of Applied Science degree. She always finds it rewarding to get to know our patients, and she enjoys knowing that our gentle care helps to keep them smiling! Jennifer is married to Phil and they have three children. After her husband served in the Army for 20 years, they decided to retire in Fallon, Nevada. Away from work, Jennifer enjoys riding ATVs with her family, reading, and traveling.
---
Debbie – Office Manager
Debbie has worked at Fallon Family Dental Care for over 25 years! She enjoys the closeness we have among our dental team and patients, as well as the family atmosphere at our office. Debbie strives to help our patients in any way that she can. She has been married to her husband, Greg, for 22 years. They have three children and one granddaughter. In her spare time, Debbie likes to camp, read, travel, and spend time with family and friends.